Living your fullest life
Tri-County Mennonite Homes, located in New Hamburg and Stratford, Ontario, are thriving communities  where residents flourish, grow and live their lives to the fullest. Each of our homes feature scenic views and beautiful facilities you will be proud to call your own. Book a tour today to discover the perfect community for you.
Your life, your way
You deserve the level of support you need so you can enjoy the amount of independence you want. From private apartments to long-term care to supported living for adults with developmental disabilities, our communities provide social activities, convenient amenities and caring support, freeing you to focus on making every day matter.
Greenwood Court is a Best Practice Spotlight Organization
Best Practice Spotlight Organizations (BPSOs) are health-care and academic organizations selected by the Registered Nurses' Association of Ontario (RNAO) to implement and evaluate the RNAO's best practice guidelines. Greenwood Court is committed to continuous quality improvement and is thrilled to work in partnership with the RNAO to ensure the advancement and delivery of best practices in the health care sector and in our home.
By partnering with our external supports, Greenwood Court strives to implement innovative solutions to meet resident and family needs, with a long-term goal of working with the RNAO to apply and sustain Best Practices within the organization. Greenwood aims to provide current and comprehensive recommendations for resident and family centered care, based on the latest RNAO Best Practice Guidelines.
Nithview Home is a BPSO Long-Term Care Designate!
Throughout the pandemic, Nithview Home worked hard to achieve its Best Practice Spotlight Organization (BPSO) designation with the RNAO. After 3 years of effort, we are pleased to announce Nithview Long-Term Care has completed the BPSO journey and is officially a BPSO Long-Term Care Designate.
Nithview Home transformed its organizational culture by championing a BPSO model that has improved resident care, staff retention, enhanced peer-to-peer mentorship, developed a supportive, caring living & working environment. Congratulations Nithview!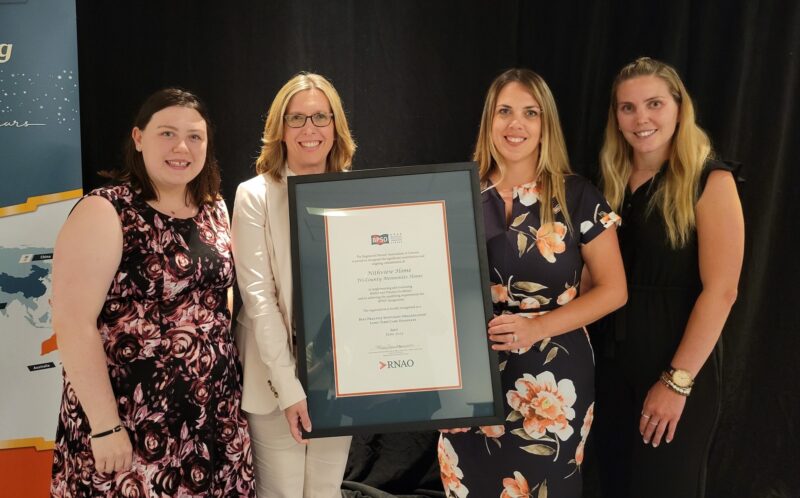 Message from CEO
Hello, my name is Steven Harrison, and I am the Chief Executive Officer at Tri-County Mennonite Homes. I did not start my career as a CEO, but instead, many years ago, I was a Personal Support Worker while attending university. Like so many others, I hold my experience as a Caregiver close to my heart. It gave me a firsthand appreciation for what it takes to muster courage and perseverance every day to provide care to those in need. Values like compassion and respect are at the heart of caregiving. Throughout the various stages of my career, I have always remembered how the heart of a Caregiver is truly what brightens each day for people in care.
With a history spanning over 50 years, TCMH has deep roots in the community. As an organization, we are committed to our community and we believe by partnering together we can achieve more for our residents. We pride ourselves in our dedication to exemplary care, supportive programs, compassionate staff, and a strategy rooted in our Mission: Making Every Day Matter.
We offer services in a campus of care model—from independent housing to assisted living and long-term care accommodations are available. We also offer services for adults with developmental disabilities, including supported independent living, group homes, and day programs. At TCMH, we believe in integrated supports and in a model of care that focuses on the people we serve. As the CEO, I am proud to be part of a team who encourages our residents and supported individuals to achieve their best, who are leaders and innovators in a rapidly changing time, and who anticipate and focus on the needs of individuals in care as a central part of the services and care we provide.
Our fundamental underpinnings as a faith-based organization are coupled with our commitment to providing exemplary service for the loved ones in our care. TCMH is dedicated to building and maintaining trust between the people who work here and the individuals in care. The staff who work and provide service in our homes are professional, empathetic, and dedicated to being a Caregiver, always respecting those who call TCMH their Home.
Whether it is our programs and supports offered at Aldaview Services for individuals with developmental disabilities or the programs offered to individuals in retirement, long-term care, or independent living at Greenwood Court and Nithview Community, we pride ourselves on a team-based model of care. As a team, we rise to each new challenge with a spirit of engagement and innovation, focused on balancing the combined needs of our residents in care and the staff who care for them. Our work is never easy, but it is our commitment and calling as Caregivers.
There are many opportunities on the horizon at TCMH, both for individuals in care and staff alike. Nithview Community is expanding to meet the growing needs of the community. Aldaview Services and Greenwood Court continue to provide exemplary services and supports in an ever-changing world. If you are interested in calling TCMH your Home or you are a jobseeker, I encourage you to review the resources on our web site, contact us with your questions, and consider us as the Home that will meet your needs.
Steven